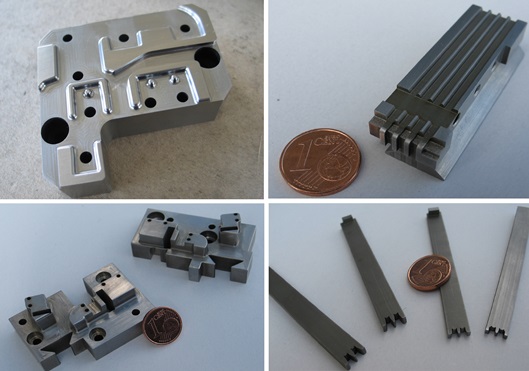 The activity of the high accuracy Parts Machining section, of our Industrial Subcontracting division is the precise machining of technical parts in our CNC machinery, according to customer specific designs.

We have the ability to make machining operations from simple small parts, up to heavy complex parts. Plenty materials is possible to machine, including hardened steel with hardness bigger than 60HRC.

Complete milling operations with one single setting is possible, with the 5 – sided, 5 – axis simultaneous machining center, which can handle workpieces up to 2.500kg weight, with superb accuracy.

Tool grinding in μm range is possible with our precise surface and profiling grinding machine.

Punches and die tools with the minimal tolerances can be achieved using the 5 – axis wire cut EDM machines, no matter how complex is the geometry.

Steel heat treatment inside our factory, with our electric furnaces system.

All machining parts can be measured in our quality management department with modern measuring equipment, which ensures the high accuracy and quality of the final parts.